AUDIO TRANSCRIPTION SERVICES
Fast, Efficient and Reliable Audio Transcription
NightOffice operates an Anglo-New Zealand audio transcription service, providing professional audio transcription 24 hours a day, 7 days a week.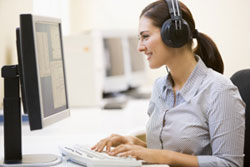 Let NightOffice take the strain of transcribing your dictation into important reports, letters, file notes, scripts or other audio transcription requirements.
We offer a friendly and personal typing service where we strive to return all work as quickly as possible, but we will always be realistic with you about the time-frame.
Our audio-typing service doesn't require any volume contracts, providing transcription on an as-needed basis.